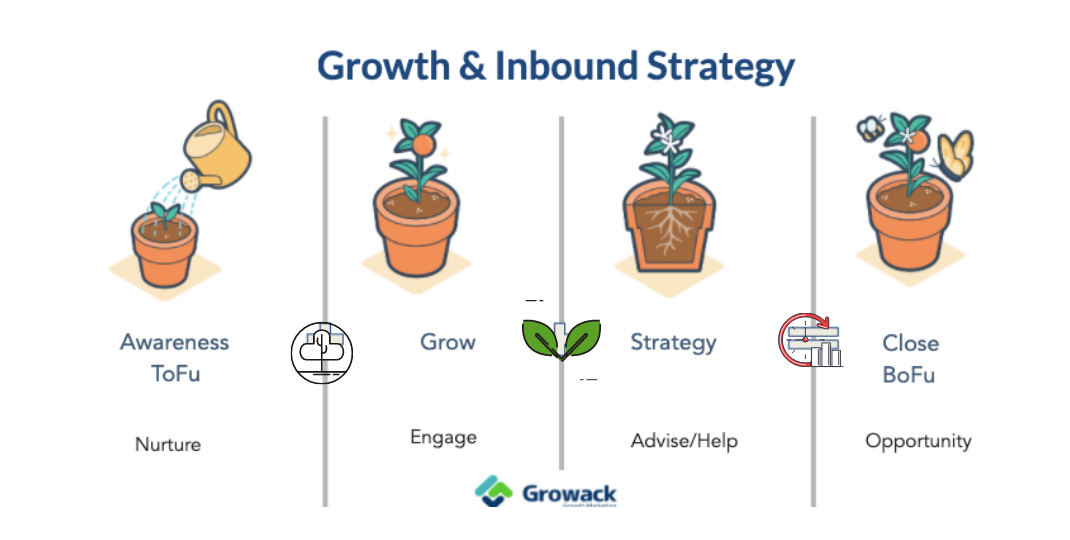 Why You Need a 'Top Of The Funnel' Growth Strategy?
Top of the Funnel (ToFu) Growth Strategy 
How to steer your ToFu awareness process to drive qualified traffic? and why is it key for an Inbound Growth Process?
You think it this way that if you are fishing in a pond with not only a good number of fishes there but also of good size and health. In that case, your chance of getting a quality one is way too much higher.  Your top of the funnel is a big pool of unqualified leads, to get results that matter, the leads ready to engage and have urgency, we need a reliable structure of solution-driven ToFu offers and an active qualification process. 
It's the stage where a buyer is typically trying to solve a problem or meet a need. As a result, they are looking to be educated and to find information that will help them figure out the best solution.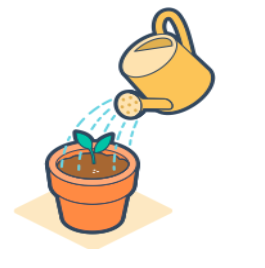 What we are going to cover in this post    
Understanding the Audience
Identifying the Channels
Mapping the Actions to the Funnel Stages
Designing the ToFu Offers
Driving Omni-Channel Awareness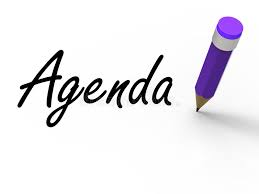 1. Understanding the Audience( The Audience Intelligence) 
What is the audience's intelligence?
What's the value of understanding your audience and customers? When we say audience it just not only a reference to current customers or potential customers but to a large set of audiences, who could be potential prospects, sitting on the fence, might have not heard of us and can easily come under the target lines.
A broader community and media who have influence and impact on your customers. How to learn more about the audience?
The answer is; use – "The Critical Audience Intelligence"  
Audience Intelligence – Useful, Usable data about your customers, potential customers, and community
The questions we must try to get an answer at this stage:
Do we know the buyer personas and their preferred channel?

Do we know the buying intent characteristics?

Do you notice their emotional response, browsing behavior towards your brand/product/service? 
How can we consistently learn more about the target audience?
If we set up the system to segment well, especially with dynamically segmentation of the traffic ( tracked or anonymous contacts ), over time, it will help you to collect significant data about your target audience. Most of the time we miss the focus on this part and not all marketing & sales automation systems provide easy features to capture such data as well. 
How do we collect audience data?
Surveys

Interviews

Analytics 

Behavioral data 
2. Identify the Channels (The Channel Intelligence)
Understanding channel preference and priority plays a key role in an impactful communication strategy. 'Channel Testing' must be part of the early-stage growth stack buildup. The faster we test and identify the impactful channels, the easier it will be to focus and prioritize time & budget for paid and organic campaigns over the high result channels. 
A mix of channels and a consolidated ecosystem helps to increase the depth of reach and earn attention. This over the time builds bridges for
Potential customers ( suspects, prospects..)

Current customers ( brand value and engagement)

Promoters, Influencers 

Community and PR
The channel mix of the online and offline ecosystem which we should be looking at and monitoring very well could be:
The benefits of "Audience and Channel Experiments & Research"
It improves your confidence.

Helps you pick out the relevant topic and tone of voice 

Helps you identify commonality or opportunities for rapport

Helps you visualize and paint a picture who you're talking to

Provides a minimum understanding of your prospect
If you want to bring the traffic, you've got to go where the traffic is.

——–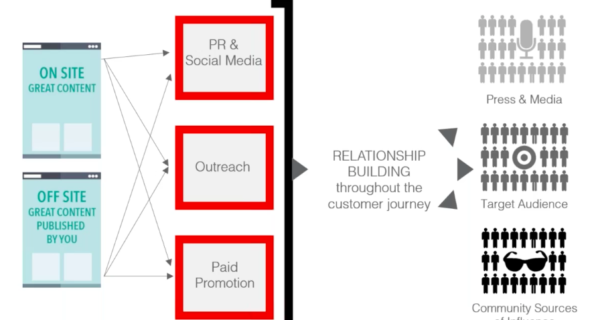 3. Map the Actions  to the Funnel Stages
Now understanding the whole funnel & it's different stages Top, Mid & Bottom stages and identifies the key dimensions 
Business Goals  = what we want to achieve( ex; qualified traffic, 25% MoM)

Actions  = What actions per channel we can execute 

KPIs = The key performance metrics that we'll measure for each action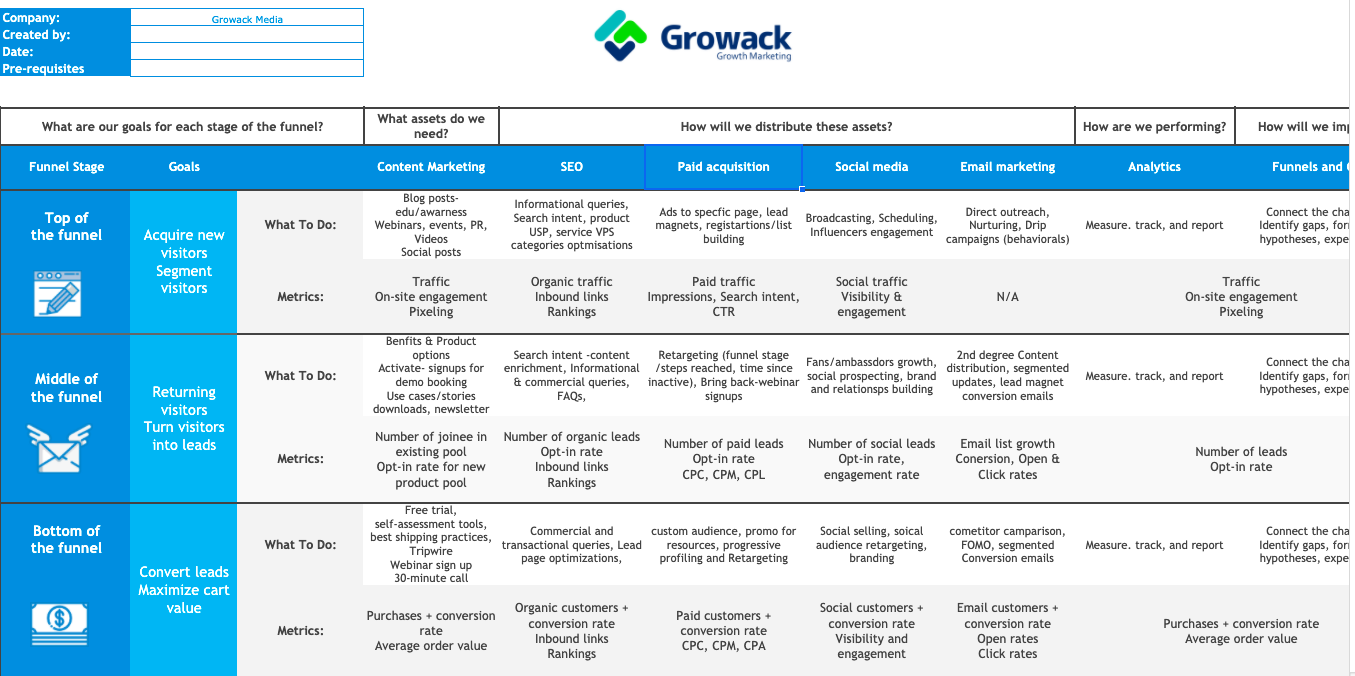 It would be good to enrich the funnel with some agile methods and growth hacks by using integrations and tools; 
How the framework functions:
This gives us a marketing mix of paid & organic actions at each stage of the funnel

Identifies KPIs & OKRs to measure

Guide for growth experiments at each stage, to build a custom audience. integrations/Zaps and API calls ( ex: PhantomBustor, Hunter.io etc) 
4. Designing the ToFu Offers
Let's move ahead and look into more details into the actions. For a given funnel stage, the campaigns with value offers are crucial.
The brainstorming over what's in it for the target audience should lead to the identification of triggers for an enthusiasm, legitimate promise( what you gonna solve), and the preview of the solution. 
When repeated and communicated over multiple channels and touchpoints, it builds up recognition for the brand, subconscious product/service perception, and identity that help in the pipeline generation over time.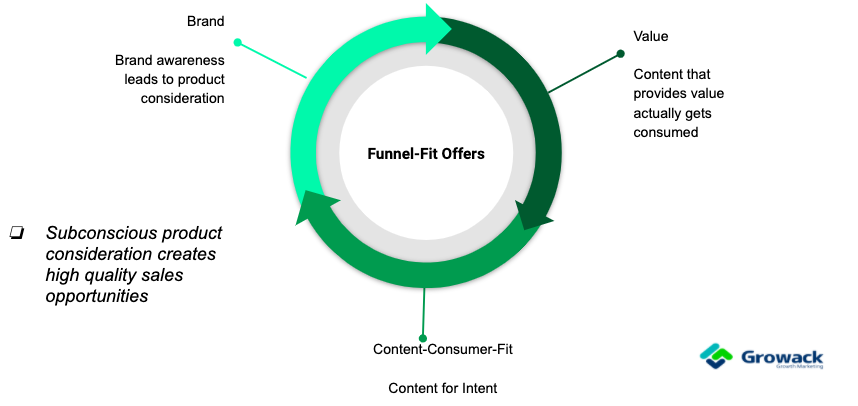 Probable ToFu Offers
Content: Not NOISE but VALUE
Self-Assessment Tools – helpful  to get a hint on the dimensions of requirements, 

Lead quizzes ( key element for ToFu) 

Videos with use-cases per business scenarios.

Personal invitations to webinars/events/Interviews
Offer at Social Media :
Creative Storytelling Content

Social Monitoring & Listening – Frame Strategy Accordingly

Event Invitation

Joint Reports Publication & Promo

Messaging
PR & Influencers Level Offers:
Build Relationships with Influencers

Interview Influencers on Your Blog

Befriend a Journalist 

Be a Contributor
Add a Growth #flywheel approach on the alignment of Customer-facing teams to come together 

As a joint force to contribute and serve the customer's purpose in an effective way.
5. Driving Omni-Channel Awareness
What we have to keep thinking is this question- 
How are we paying first to customers to find out about us? 
We use a simple calculator to estimate what is needed as 
Number of content pieces per channels

The time spent 

The budget

The distribution time and plan
So in the end, here is what we tried to paint a picture for, an end to end structure, of course when it goes into implementation, variations and exceptions do come.
That's also crucial to have a flexible mindset at this stage to adjust surprises.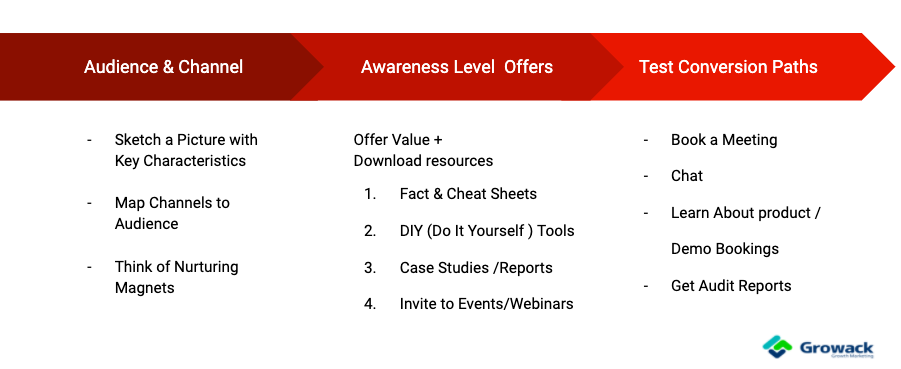 Do share your thoughts or any questions regarding this process via comments.
If you are looking forward to adopting an inbound strategy for your business, connect with me to discuss( free chat), I'm super excited to listen & add my pointers over your business challenges and growth plans.