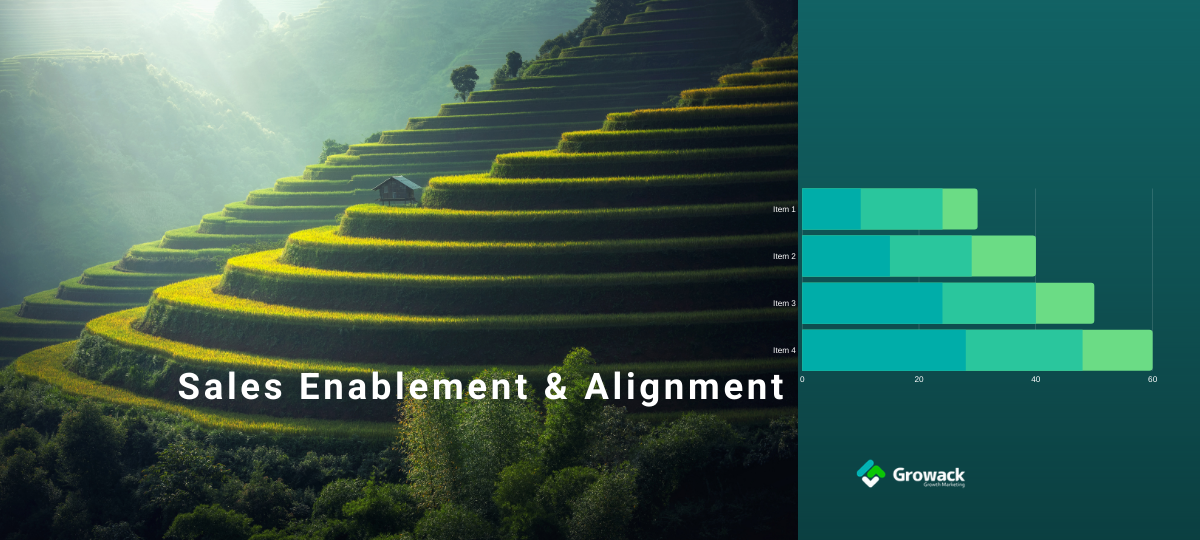 How To Setup Sales Enablement For Revenue and Pipeline Velocity?
Explore how well your sales and growth marketing operations are aligned and how sales enablement processes can positively impact your business's bottom line by helping your sales teams win more deals.
if you provide sales teams with the right materials, tools, and resources they need to convert leads, they'll close more deals and drive revenue for your business.
Do you know or have the mechanism that ensures the access and knowledge of usage of the right resources to sales teams to boost conversions and handle more leads?
The answer is –  Sales Enablement to get your marketing and sales team work closely as one revenue generation team.
What is Sales Enablement?
"The processes, content, and technology that empower sales teams to sell efficiently at a higher velocity."
It is the iterative process of providing the sales team the key targeted resources they need to win more deals. These resources may include content, tools & technology, knowledge & expertise, and the right information at the right time to effectively help buyers and close the deals.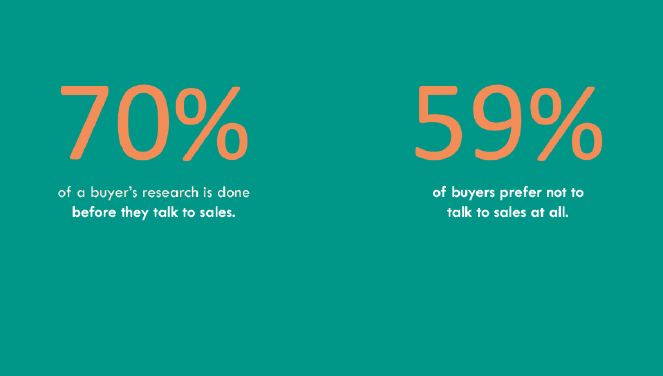 Why You Need Sales Enablement
Inbound is about creating marketing and sales that people love by providing helpful content and resources that attract people to you by providing helpful content and resources that attract people to you.
Get your sales and marketing teams working together.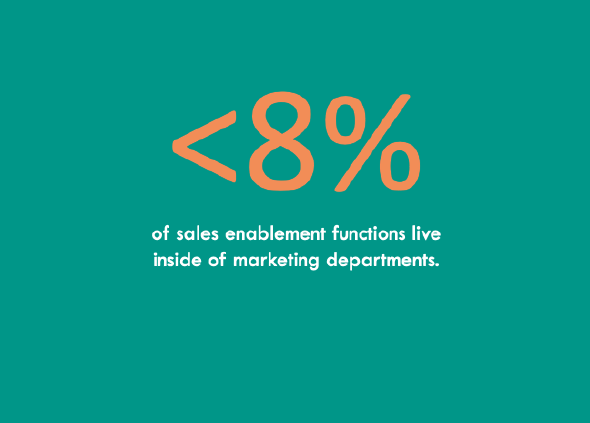 Sales enablement is jointly owned by marketing and sales teams.
Marketing contributes to the variety of resources; videos, blogs, and conversation and product guides which support sales reps' interactions with potential customers. 
Sales teams can collaborate with marketing about the types of content and materials needed, helpful for leads to understand the value propositions throughout their journeys, and also share feedback and customer inputs with marketing to prepare more empathetic collaterals. 
Download the Ultimate Guide of Sales Enablement.
Developing a Sales Enablement Strategy
The best practices and key elements of a sales enablement strategy
Marketing and sales have to be aligned around a single revenue goal. Setup meaningful pipelines, deal stages. Service-level-Agreement ( SLA) and goal agreements between sales and marketing teams will add velocity in wining rates
Align the Team Around Your CRM
Make sure your team is working and communicating efficiently by making the CRM as a single source of truth for your organization. You should have a clear insight into the activities of sales reps and where deals are in the pipeline, and how the teams, sales, and marketing, are tracking towards their goal. 
Use a mix of Chatbots, AI bots as the first line of defense and well supported by Live Chats processes. This will help your sales team time to focus on qualified leads. 
Being able to put up the Ideal Customer Profiles (ICPs) is a big success and it's an ongoing process of fine-tuning it. Our aim here is to increase the time sales reps spend speaking with more qualified buyers and developing personalized solutions for their needs.
A buyer-fit content strategy 
Producing content that addresses the needs of target buyers, not just any content. Conduct a full content audit. It is critical to the success of the sales enablement strategy. Centralize all existing sales content in one location, ensure contents are accessible to teams for a quick share. 
The marketing and sales team must align on below type of contents, to fine-tune and should be audited and organized:
Customer case studies

Whitepapers and ebooks

Product demo decks

Pricing and discount information

Competitive intelligence briefs
It's important that the sales team is working in close alignment with marketing to create the prospect-fit blog posts, case studies, or one-pagers necessary to answer prospect questions and close deals.
And as per research reports, when salespeople have access to the content they need from marketing and are trained to use the content effectively – research shows deals success rates can increase by up to 16.6%.
Replicate High-Performer Best Practices
Do you identify the working practices and where your sales and marketing teams excel, pick up what makes them so  and replicate those practices across your organization. 
For example, if a sales rep has a specific call cadence (or sales sequences or opening offers,) they've experimented with to get just right. If that call cadence consistently lands big target accounts, it might be time to implement that call cadence as the standard for all your reps.
And finally, look at the scale. Be informed that not everyone will adopt the strategies and execute them effectively. It would be helpful to bring standardization and formalize the approach to sales enablement and process, to ensure the teams are working efficiently.
As per the CSO Insights research aligning the sales enablement plan with your business strategy provides a 19.2% higher close rate.
Your Sales Pipeline and Velocities
Sales pipelines work as a guide to plan out the buyer journey and track the progress and also helps to identify the roadblocks in progress. This not only helps us to increase closer rates, but it'll also make those customers more valuable to our company.
Each pipeline will contain stages. The stages are mainly for the actions that the sales team takes to turn prospects into customers. This way, your whole sales team will have a clear view of how the deals are moving, the time taken in between, and over all won or lost percentages towards the sale.
Remember: what would be the best-suited sales pipeline will depend on how your business works and how your team sells best.
"A sales pipeline is only valuable to you if it helps your team close deals faster and convert more customers."
A few useful types of Sales Pipelines to consider 
sMarketing (Sales and Marketing) Pipeline
The sales and marketing pipeline is to connect the two teams, giving both access to the common areas. This pipeline could be fit for stages at the beginning for lead generation and cater more to the inbound leads generated by marketing.
If your business has significant after-sales services, you might need a post-sale pipeline for the work items after the contract is signed. This could include many activities including providing a service, asking for a referral, or providing training etc. 
How do you keep an eye over the lost leads or deals? The easy way to arrange them into a retargeting pipeline. This pipeline will have specific stages to retarget lost leads with relevant follow-ups.
Product/service-based sales pipeline
 Based on whether you're a product or service-based business, your pipeline can be specifically adapted to what you sell.
Profile-based sales pipeline
Are you targeting very different buyer profiles, a profile-based pipeline will be a go-to thing for you. Selling a product to both SMBs or Startups and Enterprises will have a different selling process for each.
Sales Enablement Softwares/Tools
Sales enablement tech-stack allows your team to centralize and manage all of your materials and content from one location. These tech solutions help you to create, share, edit, and manage all the key materials and resources with ease. 
Here are a few commonly-used sales enablement software options:
HubSpot
HubSpot as CRM and Growth Platform— provides your business with a complete look at your sales pipeline as well as full access to a wide variety of marketing creation tools. 
Seismic
Seismic – easy for your sales and marketing teams to seamlessly collaborate —  create and share, reach, and convert more leads into customers. 
Zendesk
Zendesk – keeps track of every interaction your sales teams have with a prospect throughout the entire buyer's journey. 
Outreach
Outreach – aligned your marketing, sales, and customer success efforts so you can efficiently share insights and content cross-team. 
Highspot
Highspot –  customize different guided experiences and conversations for customers and share them useful and relevant information that suits their specific needs.
Thoughts on Sales Enablement strategy at your business? 
Do share your thoughts and questions regarding the sales alignment and enablement process via comments. If you are exploring a pipeline acceleration strategy and plans to activate for your business, more than happy to help and feel free to connect for a friendly chat.