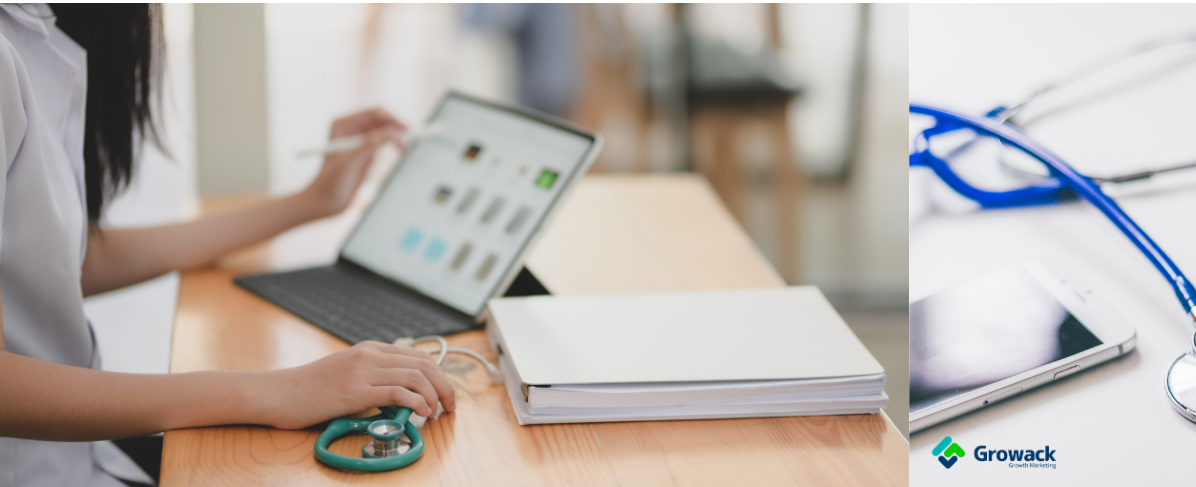 7 Inbound Growth Ideas to Scale Your Life Sciences and Medical Software Business
Explore how well your Life Science and Medical-tech marketing strategy is fine-tuned with the market & target audience and examine its effectiveness with respect to the latest marketing trends. When we know that the click-to-conversion is merely a single digit, less than 3% of your target market is ready to buy at any given moment in time, therefore always need to fine-tune your growth strategy. 
As life science professionals continuously handle research solutions or product optimizations, which leaves little time and focus to set the correct marketing plans, go-to-market plans, tools & tech-stacks, and personalization for the target audience. Be it research solutions, medical software, or medical devices, you know your product or solution can help many healthcare organizations and related professionals to do their work more efficiently and smoothly therefore the better the strategy the better will be the reach and Inbound methodology really can help to achieve this holistic goal. 
Inbound methods can provide help in not only just attracting the right target audience but also building and sustaining B2B relationships. Life sciences and medical software solutions can use it to attract key decision-makers, end-users, healthcare professionals, and related businesses to their high-value pages, use cases, and social pages to connect and understand their needs.
We outlined here a list of Minimum-viable Inbound elements to implement and test the outcome for your product or solution.
1. Personalisation and Ideal Profiles
Personalized marketing is a strategy to increase relevance, engagement, and build trust, leading to better commercial outcomes.
Personalization for life science research solutions or medical software space is even crucial. Pharma researchers, healthcare professionals, and patients are always asking the internet about their key questions, checking the recent discoveries, or methods and symptoms and there is no better opportunity than personalization through websites and smart content to get to know these patients. 
     "Personalisation strategy will only produce fruits when it's relevant and useful."
And honestly, it is not that easy to make life sciences, clinical trials, and pharmaceuticals exciting and interesting enough. 
 How do we achieve personalization?
Delivering timely and tailored relevant content and messaging, which are very well segmented for strangers, leads, and customers across the channel is the key goal to achieve via personalization strategy. 
5 pillars for getting personalization right 
Build

audience intelligence

and get data

Make

buyer personas 

 Understand the buyer journey and map out the content

Develop cross-channel seamless personalized experience
2. Interactive and Relevant Content
The smart, interactive, and useful content will be the one that a visitor sees when she/he comes to the website based on what they are likely to be interested in.
The "dynamic" or "adaptive" content for the aspects of a website, ads, or emails that changes based on the interests or past behavior of the viewer. This means taking into account the factors of your visitors such as:
Location

Language

Device type

Referral source

Demographics 

Life-cycle stage
The content and website experience of a customer should not be the one that's focused on a prospect. 
An Individual page for every major life sciences solutions or service or products with excellent, keyword-rich, long-form content will be a real boost for SEO and organic discoveries as well. 
What type of contents?
Use cases

Interactive ebooks

Product demo decks

Interactive videos

Educational webinars and podcasts
With specific life sciences solutions, research info, or medical category product needs, you want to make those a priority in their visits. Tailored the content and product relevance strategies for strangers, customers, and cross-selling or upselling via developing an experience in every aspect of communications. 
3. Conversational Marketing 
Conversational marketing is a strategy and process to deliver the right message, at the right time, to the right person, with the right information, on the right channel, every single time.
"And Conversational Marketing Is more than just Live Chat"
The conversational marketing audience is way too much more insightful and shares in their own words how they want to interact. There's no inferring or guessing, like with web traffic.
While setting up the conversational marketing, understand the flow, plan it, and optimize it for business outcomes. Be certain of what you want to get out of the conversation and what data you need to make that happen. Every conversation and method used whether a chatbot or AI bots or live chat should add value to your business.
Here are a few ways chatbots can help:
Answer FAQs or customer-specific questions where data is already available

Qualify Leads

Promote events, products, and content

Schedule meetings

Get feedback from customers and prospects
Measure conversational marketing success: 
Sales and marketing can align to make this really successful and real-time lead gen and customer satisfaction process with agreement over shared metrics for the success. 
Here are some that may be as below- 
Managed rate:

the chat % fully managed by chatbots without human intervention

Assisted chats:

the number of chats with prospects, handled by the first line of support

Qualified rate:

the % of sales fit assisted chats

Customer Satisfaction (CSAT):

the % of conversation( bot and human ) marked as positive.
An engaging conversational process and setup offers-
Strong value proposition. 

Clear expectations 

Offers alternatives and other paths
4. Life Science Influencers and Referrals
       "86% of marketers reported using influencer marketing back in 2017. 
In the life sciences and healthcare, the most important pieces are experiences and use cases, that help people to decide if they can trust the solutions, research and if they feel comfortable doing business with an organization. The concept works the same way as for consumer sector companies, which use relevant influencers to create stories and get them to vouch for their products.
Life science and medical software businesses can follow a similar approach by using trusted and well-known industry influences to put the stories and use cases related to their solutions and products by joining fellow professionals from Life Science and Healthcare industries,
Employees as ambassadors

An advocacy program

Join events and relevant storytelling platform 

Collaboration with micro-influencers

Collaborate with relevant publishers

Joint research reports

Collaborate not-for-profit Life Sciences & Healthcare organizations

Host a special solution-cum demo events
Developing referral and loyalty programs will give extra power to increase reach and customer satisfaction.  Researchers, consultants,  and healthcare providers are typically familiar with each other and may be associated with several key organizations, ask and offer help. 
5. Meaningful Sales and Marketing Automation 
The benefits of automation are immense. However, before investing a lot of time and effort into it, identify the real opportunities of automation. Repeatable marketing and sales items, customer support items, and many more. Marketing automation continues to advance and is a vital tool for segmentation, data-enrichments, lead management, and nurturing B2B prospects along their purchasing journey. 
The automation will help your organizations by automating repetitive marketing tasks, sales activities, data-managements and saves time, while its ability to nurture prospects with targeted, personalized content retains their interest.
Sales automation can help you achieve sales enablement by saving time & efforts of sales reps from contact's data entry in the CRM, manual tasks, meeting and task logs, sales files, and relevant sales content management. 
Read More:  How To Setup Sales Enablement For Revenue and Pipeline Velocity?
6. Social Reach and Selling
Why would you use social media and What could it possibly do to help the life science organizations for their growth goal? 
"Humans are emotionally driven and crave the security of knowing there is an underlying foundation of mutual respect, honesty, and trust between them and the establishments they associate with." writes Ashley Deibert, VP of Marketing at iQ Media, in an article in Forbes magazine.
Social reach and presence to invest in communicating the character traits of your Life Science organization, such as "honesty," "credibility," and even "vulnerability"  will earn you win over the long run.
Also, focus on choosing the social media channels, as there are many options out there, however only a few may prove effective and worth investing. LinkedIn has been a great fit within the B2B space for advocacy, influencer network, branding, and generating 80 percent of business quality leads.
Twitter and LinkedIn with multiple features are suitable for inbound processes. They provide direct messaging, engagement, and reach analytics helpful to increase top of the funnel awareness, educate enough, and attract prospects.
7. Multi-Channel Education and Nurturing
The B2B life science and medical software product businesses should adopt a "bottom-up" content and reach approach. 
What does it mean?
It means increasing your reach via all possible and relevant channels within the end-user of your solutions & products and the decision-makers, business owners, etc. 
Include both print and digital tactics within the marketing mix.
Life science professionals use both digital and print publications to attain information and knowledge about the industry.
Once the channel mix is identified, all ready to set up and launch a content-mix strategy for open-channel education and nurturing. Online resources are events that will help further in building brand awareness and attracting the right audiences.
8. Your Extended B2B Growth Team
Domain expert agencies can help in many ways, not just saving tons of time and bringing speed in execution but also by adding vertical expertise, channel & audience know-hows, and industry-specific insights. 
B2B growth agencies work as an extended team and based on the relationships with organizations to deliver on the mutually agreed integrated growth – sales and marketing activities and objectives agreed upon.
Also, working with such extended growth teams,  means your in-house team gets fresh ideas and perspective over the trends and best practice insights over sales and marketing plans, 
Thoughts over Life Sciences and Medical Software Marketing Strategy? 
Do share your thoughts and questions regarding the sales alignment and enablement process via comments. If you are exploring a pipeline acceleration strategy and plans to activate for your business, more than happy to help, and feel free to connect for a friendly chat.