Growack Media Recognized Among Western Europe's Top B2B Companies for 2021
Growing a business is hard. There's never enough time in a day and great and reliable people are hard to find. Here at Growack Media, we've been successfully delivering value-based growth following the growth-as-a-service model. We are a B2B growth marketing agency and HubSpot solution partner. As a B2B marketing agency, our team is determined for personalized and value-driven support in revenue acceleration.
We work with clients across different industries and our process works best for technology products, B2B marketplace, e-commerce stores business for startups and SMEs just to name a few. One of the services we provide is to train and up-skill your marketing and sales team in inbound, digital, and growth marketing processes with our flexible training programs.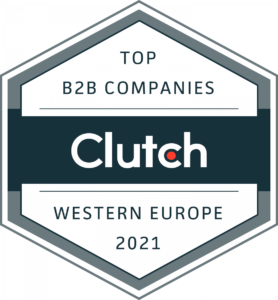 Our client's satisfaction and happy thoughts about our commitment towards value-added growth services and successful marketing strategy are true rewards to our work and very well captured and recognized by Clutch.
We've been recently recoginised by Clutch as one of the top B2B companies in Western Europe and awarded as one of the top B2B companies in Amsterdam in the SEO space.
A rapidly expanding startup, Clutch has become the go-to resource in the agency field. Their reliable and transparent review process is what set's them apart, and we're grateful to those of our clients who have taken the time to provide feedback.
Here's our CEO, Sushil Krishna, on what he had to say on hearing about this amazing recognition:
"We are really more than excited to have been chosen as one of Western Europe's Top B2B Firms by Clutch. It gives deep meaning and words to our commitment towards customer success."
We'd like to thanks our clients who trusted our capabilities in making their ideas into a reality.
To learn more about us and our past work, please check out our Clutch profile! Ready to get started on your next project, get in touch!