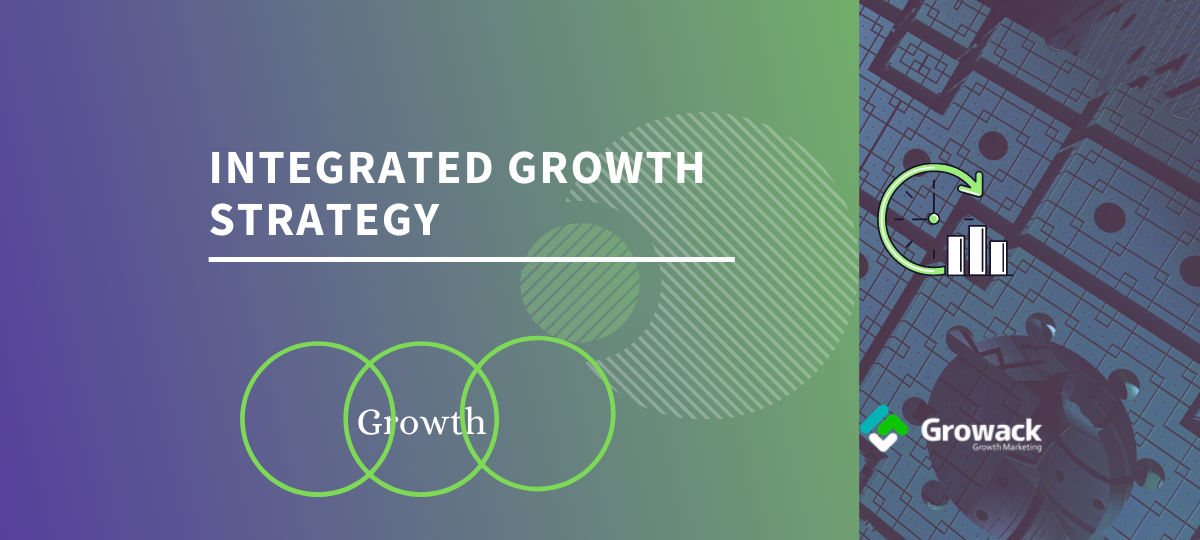 How to set up an Integrated Inbound & Growth strategy?
The Inbound Growth Eco-System
Before we get into the core of this topic, let's revisit and understand 2 fundamental points,  Inbound Marketing and Inbound Methodology. These terms are going to appear quite often in this post. 
What is Inbound Marketing?
Inbound marketing is a strategy for attracting customers by consistently creating information, advice, and value and experiences tailored to them. It does include multiple channels, meaningful collaterals, and educational resources addressing the pain points of the target audience. 
Inbound is a marketing category, which includes every functional aspect of digital marketing; for example- search, social, content, and analytics way more cohesive and strategically to get maximum and qualified output
The inbound mechanism establishes stronger and deeper connections with potential customers by advising and educating over the problems they have, as a first step.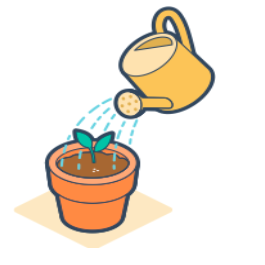 What is Inbound Sales?
Inbound sales is a methodology that relies on personalized needs, challenges, goals, and buyer intent as stands as a modern sales methodology. For Inbound sales to be a successful sales method at your company focus on prospect's challenges, act as a high trust advisor, and adapt their sales process to be flexible for helping them instead of closing the deal only aim.
What Is Inbound Methodology?
Now, after understanding the Inbound sales and marketing, let's look into how to set it up and what are the methods used in the inbound strategy.  The inbound is the method of growing your business by building helpful and meaningful relationships with prospects and customers. The objective of the method is to add value and empower these people to achieve their personal and business goals and objectives. 
Why is that crucial? because you succeed only when your customers are satisfied, delighted, and successful. 
The three ways of the inbound methodology:
Attract: get the right people to come to you. The possible way to execute this is with targeted & valuable content, thoughts, and conversations that establish you as a trusted advisor.
Tools to use at Attract Stage:
SEO

Ads

Blogs

Videos

Social Media 
Engage: sharing and presenting insights, guidance, and solutions that help them in their challenges and goals, is the opening step to get them talking and engage with you. 
Tools to use at Engage Stage:
Email Marketing Strategy

Personalization ( Smart Content)

Conversational Marketing ( Live chat/chatbots)

Workflows & Marketing Automations 
Delight: help and support at every stage of their journey to empower your customers in being successful and satisfied with their goals. That will help you to earn promoters, word-of-mouth, and evangelists. 
Tools to use at Delight Stage:
Conversation Inbox 

Surveys & Feedback Loops 

Social Listening

Customer Support & Success Teams
That's how the inbound methodology will help you to build a strong foundation for your growth flywheel 
Integrated Growth Strategy
The integrated Inbound Marketing & Sales and Growth Marketing process has multiple phases of planning and execution. This strategy has a full-circle view over business growth KPIs, revenue acceleration and determines the execution of meaningful campaigns, supported by data, intent, and growth tactics ( aka, Growth hacking).  So, It's an important point to understand the integrated approach and strategy.
What is an integrated growth strategy?
An integrated growth setup uses centralized systems and friction-reducing processes to align and empower sales, marketing, growth, and customer success teams, also known as customer-facing teams,  to accelerate revenue, customer satisfaction, and delightfulness.  
Marketing + Sales + Growth Strategy + Customer Success = Integrated Growth/Revenue Team

Integrated Growth Planning Steps
A Growth (marketing & sales) System
The fundamental step in this phase is to assess the need for a centralized and consolidated system in place. This is crucial to have effectiveness across the sales & marketing teams, activities, and results/goals progress. A situation with multiple isolated tools and tech-stacks eats up a lot of time, lacks synchronization, and a clear view of progress. 
A few signal that you need a system in your business 
There are multiple sources of truth and information

Little or no alignment between the sales and marketing processes

Reporting is isolated and lacks a full picture 

A personalized experience is just an alien concept for sales and marketing

Many data points and loss of data
2. Target Audiences and Buyer Persona
When we say audience it is not only a reference to current customers or potential customers but to a large set of audiences, who could be potential prospects, sitting on the fence, might have not heard of you and ca
n easily come under the target lines.
Use "The Critical Audience and Market Intelligence"  to build an en-riched information pool about Market and buyer by using technography, Filmography, and Demographic methods and get an answer and estimate for:
Market Assessment.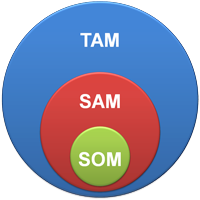 TAM – Total Available Market 
SAM – Serviceable Available Market
SOM – Serviceable Obtainable Market 
TAM>SAM>SOM
Buyer Persona
By this time we know how crucial it is to know the people with whom we are going to do business. The more is less here. The first step is to draw up the Buyer Persona: a fictional person who represents your ideal customer.
What is a buyer persona?
It describes your ideal buyer's characteristics – personal and professional goals and behavior. A buyer persona helps you understand the person who you are going to do business, his/her objectives, interests, and needs. So it is a sketch of your perfect customer.
Advantage of creating a Buyer Persona
You will focus on your ideal customer. The rest doesn't matter anymore. And because you focus on a target group that really matters, you grow faster.

You understand your perfect customer better. You will understand him, and help it reach and help your customer.
Create a Buyer Persona
 A simple process and step:
 Step 1: Start target audience research – who and how the person will be, whom you will try to attract, engage and solve challenges 
Personal goals and objectives

Professional goals and objectives

Buying objectives

Buying objection 

Role and responsibilities 
Step 2: Collect information – identify key questions that would be helpful to understand the person and channels to get the information. 
Step 3: Share with Stakeholders- based on research setup Buyer, Perona.
Step 4: Refine and optimize
In the end, a business can have multiple personas, for example, something as below:
Persona A

: VP of Sales at a technology company

Persona B:

Director of Recruiting at a technology company

Persona C:

CEO at a technology company
If you're looking for a more interactive persona creation experience, check out the 'Make My Persona Tool'.
3. Your Go-to-Prospect Plan
Once you have a system in place, the ideal buyer persona in hand now is time to think about the strategy to enter the game and find the target prospects. What mix of method will be used to achieve this, is the objective of this step. 
The Marketing Mix
Think about the profile of your customers while designing the marketing mix.
Positioning strategy and plans

Pull or Push marketing strategies. 

Network and Channels

Marketing funnels stages

Affiliates and Partnerships 

Inbound Methods

Outbound Marketing plans
Now, let's check the foundation of the growth story and building blocks for digital preparedness for the website, and eco-systems. These are basic requirements to kick start marketing mix and more precisely digital and Growth marketing processes. 
Google Analytics – Make sure the plug has been connected to the Google Analytics account to achieve
Traffic insights

Audience behavior

The goal set up and measurement

Conversion insights 
Google Search Console – Set up and verify your website with Google Search Console, and connect this account with Google analytics as well. It will help to get insights about search demands, the position of your key pages, and the opportunity window to improve. 
Search Engine Optimization – Check if these foundational steps have been done
On-page Optimizations

Google and Bing Webmaster Central 

Research and Planning of Keywords

Backlink Analysis

URLs and SEO friendly Website Architecture
Social Media Setups – Important for the reach and positioning to have a good presence at potential Social Channels with a content posting strategy.
Google Tag Manager (GTM) – use Google Tag Manager to set up your workspace and tags. Having a GTM setup will help in creating tags easily without looking towards developers.
Google and Bing My Business Pages – Set the Google My Business page for your business, helpful for your local SEO, and also use Bing My Business account to connect it with Google search console and Goggle my business account. 
Integrated Sales and Funnel Marketing Setups 
The next phase is for the inbound and funnel setup. In this stage, it's key to understand the buyer's journey. This phase will have many steps to be implemented sequentially..
Inbound Method Setups: as we read about inbound methodology above, it consists of 3 stages and we've to decide what action plan to get in touch with and engage the prospect at each stage. 
Awareness Stage: The buyer realizes they have a problem.
At this stage, the priority is education. Different methods and collaterals to be developed and positioned to get in front of a group of people who are looking for answers and solutions. There could be 2 possible approaches to create educational assets. 
Problem Education: A prospect is educating themselves on the problem that they have. For example, they may be looking to optimize their sales process, better organize their contacts. But, not yet searching for solutions that potentially solve those problems.
Solution Education: A person is educating themselves on what solutions could solve their problems. For example, they've moved past educating themselves on the problem and are now researching potential solutions.
In order to fully understand the awareness stage for your buyer, ask yourself: 
How do buyers describe their goals or challenges? 

How do buyers educate themselves on these goals or challenges? 

What are the consequences of inaction by the buyer?
Consideration Stage: The buyer defines their problem and researches options
At the Consideration stage, buyers have clearly defined their goal or challenge and committed to meet it. They evaluate the different approaches available to pursue the goal and solve their challenge. Ask yourself the following questions:
In which categories do buyers look for solutions?

How do buyers educate themselves about different options?

How do buyers compare each category?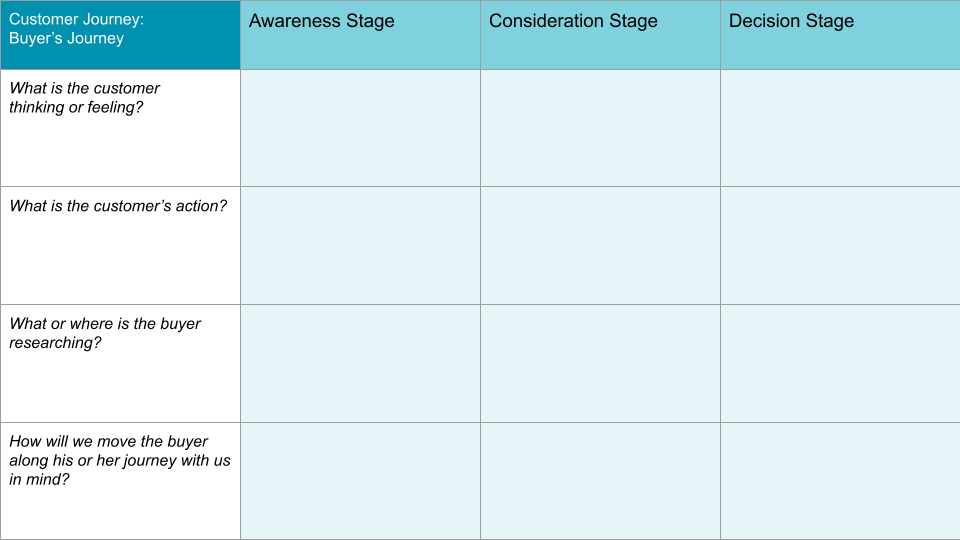 Decision Stage: The buyer chooses a solution.
At the Decision stage, buyers have chosen a solution. For example, they can write a pros and cons list with specific providers. Then they decide which solution best meets their needs. Ask yourself the following questions:
What criteria do buyers use to evaluate the available offer?

When buyers research your company's offering?

Who should be involved in the decision? 

Do buyers want to try the offer before buying it?
Inbound Sales Methodology:
In order to develop an inbound sales process, think about what you can do at the awareness, consideration, and decision stages to support buyers. Consider following this  framework for the sales process, or the Inbound Sales Methodology:
Identify

– Identify strangers who may have goals or challenges 

Connect

– Connect with these leads to help them decide whether they should prioritize the goal or challenge

Explore

– Explore qualified leads' goals or challenges to assess whether the offering is a good fit for them

Advise

–  Advise these opportunities on how the offering is uniquely positioned to address their context
Funnel Marketing Setup
What are funnels?
A funnel is made of steps a visitor has to go through before they can complete the task or the conversion.
Let's take your website's resources to download funnel. There are a few steps a visitor has to go through before they can download any content from your website. Here's how it looks:
Visitor comes to your website

They view dedicated topic page and call-to-action

Clicked CTA and filled the details

Downloaded the content 
What are the benefits of funnels?
Having a funnel view and report, you can easily find the leakages, where you are losing potential prospects and leads. Build a strategy & action plan to achieve growth at every stage of the funnel.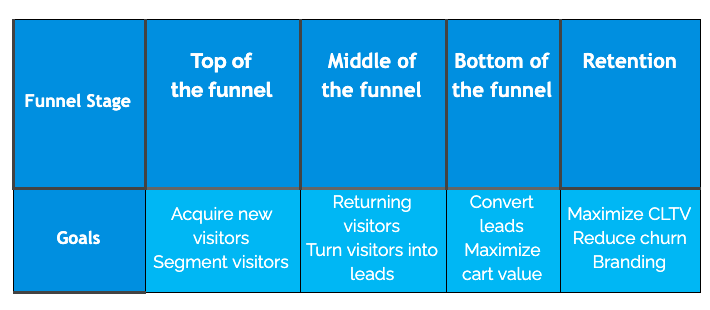 Account-Based Marketing
What is account-based marketing?
Account-based Marketing (ABM) is a focused growth strategy in which Marketing and Sales collaborate to create personalized buying experiences for a mutually-identified set of high-value accounts.
It's important to assess your current business stage and get an answer if my business is ready for an ABM strategy or not? It may not be a good fit-plan for the time but as the inbound led growth comes up, you can start identifying the target accounts and ABM strategy. 
Benefits of Account-Based Marketing
Account-based marketing helps you to 
Remove less-valuable accounts  

Ensure Marketing and Sales are in complete alignment 

Engage with high-value accounts on priority as if they're individual markets.

Maximize your business's relevance among high-value accounts.

Measure your return on investment.

Expand business through account relationships.
Inbound marketing sets the foundation and building block for a strong ABM strategy. To achieve the optimum, combine ABM and Inbound Marketing to better growth.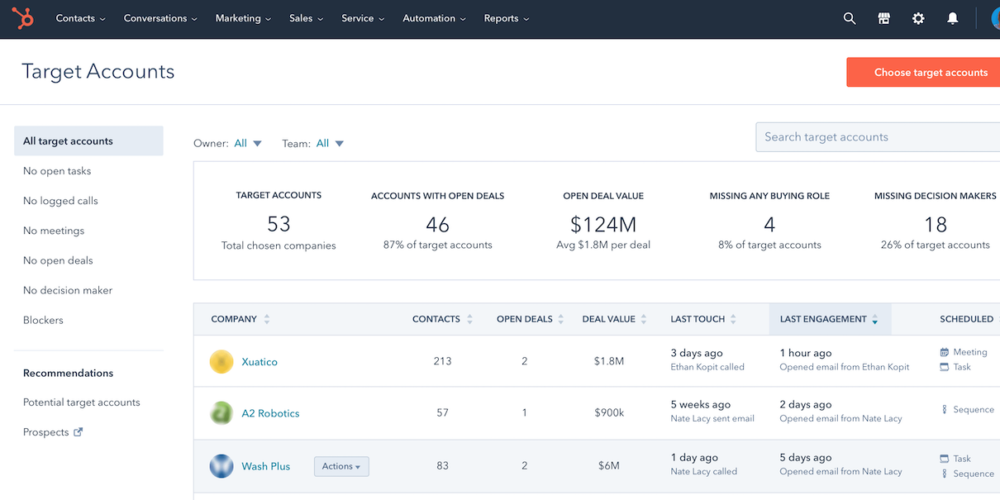 Growth Marketing Processes
An important part of the integrated approach to building a "Growth Solution Team" to keep an eye over innovative ideas, develop growth hypothesis, build data models, and launch insight-driven experiments. The speed to build and test growth stacks will help to discover new growth leavers for your business. 
The growth team works through The Pirate AARRR (Acquisition, Activation, Retention, Referral, and Revenue ) funnel by testing multiple hypotheses driven by market and customer data. These experiments can be set up for marketing( content, paid ads, search, socials), sales processes, business model and market access, and customer success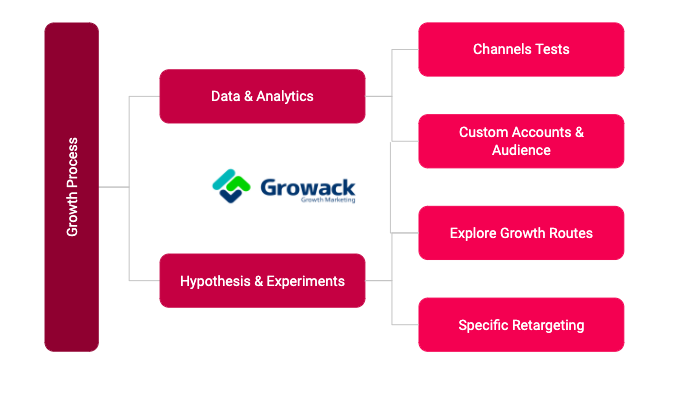 Growth Tech-Stack
Before you start building or revising your tech stack, there are four steps you need to take to understand your customer journey.
Map customer journey
First, identify the overall stages your customers go through.
   Awareness -> Consideration-> Decision 
In-depth data collection
For this, now move towards deep analytics systems for in-depth data collections and tracking. At the advanced level of data collection, you can look to capture
Event calls

– collect data on which action occurred. 

Identify calls

– collect data on who took that action 

Areas of opportunity

–  Cohort analysis, North Star metric
Analytic toolset to test: 
Other multi-purpose Growth tools:
Have you thought of an Integrated Growth strategy set up at your business? 
Do share your thoughts and questions regarding this process via comments. If you are exploring a revenue acceleration strategy and plans to activate for your business, more than happy to help and feel free to connect for a friendly chat.